Are there any good alternatives to Google Apps Mail? And the question is yes. There is Zoho. Today we will see how to configure Zoho MX records on cPanel servers.
Zoho Mail is a great alternative to Google Apps Mail. It includes a very good suite of online tools to help you to increase your productivity, while keeping your service always online with their cloud based services.
Setup Zoho MX Records by Updating your cPanel DNS Records
Zoho offers a great email service, even with a free version of their services. Once you sing up for their service, you verify your account, create your domains and mail users. However, you won't be able to receive any email if you don't configure your MX records.
On this post we will guide you to setup zoho MX records on cPanel based servers, altough this tutorial can also be useful for any other web hosting based platforms as Zoho uses the same MX records for all the setups .
How to setup / configure Zoho MX records on cPanel ?
Zoho MX records can be setup using WHM panel:
WHM » DNS Functions » Edit DNS Zone
You should remove all existing MX records and setup three new MX records, as you see below:
[table "" not found /]
The MX setup on WHM panel should look like this: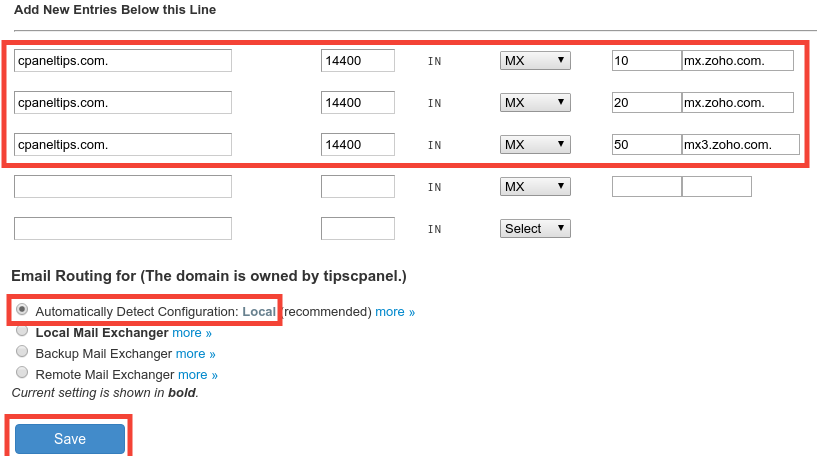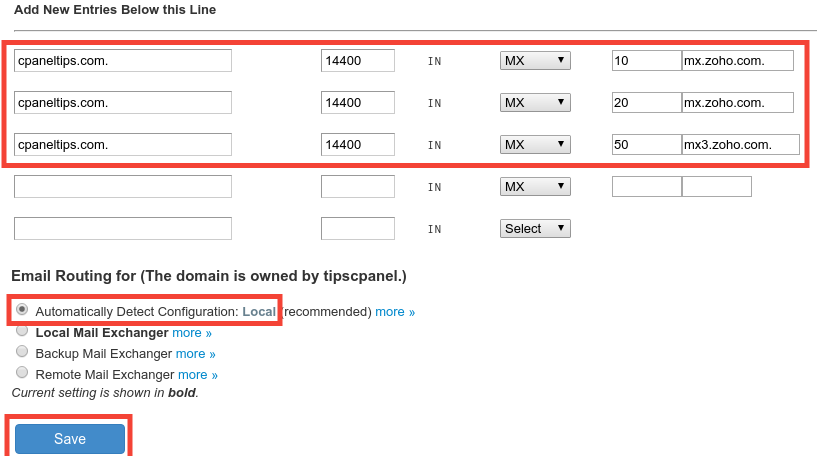 What if I don't have access to WHM?
You still can setup your MX records from your cPanel control panel by following this steps:
Login to your cPanel control panel using http://www.yoursite.com/cpanel
Locate the option 'MX Entries' under the 'Mail' section.
At Email Routing section, make sure to select Automatically Detect Configuration (recommended)
At Add New Record, as stated before:
Priority: 10
Destination: mx.zoho.com
Then do the same for the other two records, click on 'Add New Record', this are the values for 2nd and 3rd MX entries:
Priority: 20
Destination: mx2.zoho.com
Priority: 50
Destination: mx3.zoho.com
That's all.
See the output above: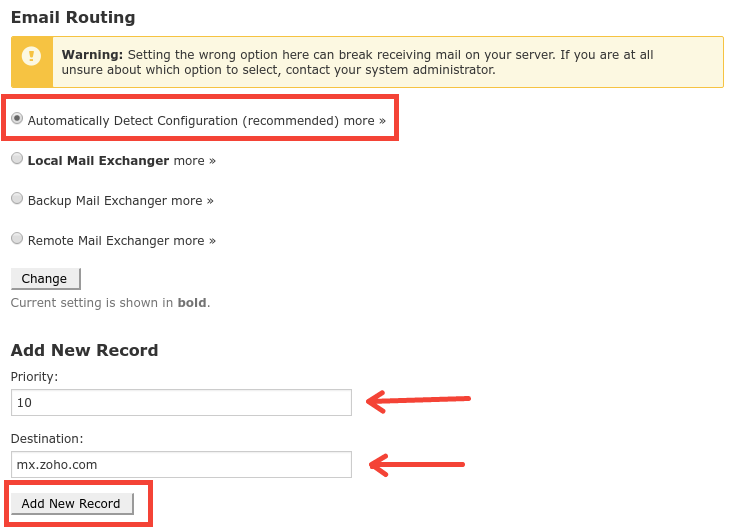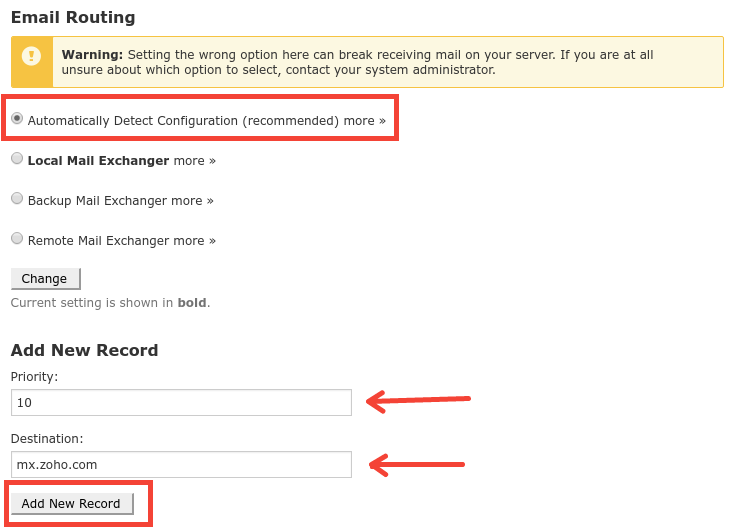 Verify your Zoho MX setup is working as expected
You can verify your DNS zone using dig command from your local network, for example:
[webtech@server.nixcp.com ~]$ dig MX yourdomain.com

; <<>> DiG 9.10.4-P4-RedHat-9.10.4-2.P4.fc25 <<>> MX zoho.com
;; global options: +cmd
;; Got answer:
;; ->>HEADER<<- opcode: QUERY, status: NOERROR, id: 25473
;; flags: qr rd ra; QUERY: 1, ANSWER: 3, AUTHORITY: 6, ADDITIONAL: 8

;; OPT PSEUDOSECTION:
; EDNS: version: 0, flags:; udp: 512
;; QUESTION SECTION:
;zoho.com. IN MX

;; ANSWER SECTION:
yourdomain.com. 300 IN MX 50 mx.zoho.com.
However, if you want to test against global locations, the best thing you can do is to use tools like DNS propagation.
Conclusion
At this time you should be all set, now you know how to configure Zoho MX records on cPanel easily and without any problems. As you see it takes only 5 minutes by editing your DNS zone and add a few MX records. The only thing you need to know it takes around 1 hour to 48 hs for full DNS propagation.
Further reading: